Fun fact: if you google "Working With Sponsors," two of my posts are on the first page of returns:
Finding and Working With Blog Sponsors
So, how about Part 3?
This one is simple and yet, I find people emailing me about it all.the.time.
It's great when sponsors find you, right? Well, it sounds good. But be careful what you ask for. Pitches come in all flavors, and not all are legit.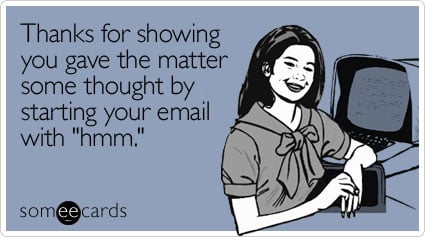 So, when companies that I'm unfamiliar with send me a pitch of any kind — I always respond, even if I think it's a no-way-in-hell opportunity.
Here's my standard email (saved as a Gmail canned response, although I tweak and personalize it before sending…more than I can say for most pitches!).
Thank you so much for your email — I appreciate you taking the time to stop by my website and learn more about what I do.

I'm struggling with making the connection between your product and my blog, but if you can provide more information, I may be interested in working with you.

My blog is about staying healthy while living a hectic life — typically, I share information about using social media tools and technology to be more efficient, although I also share my experiences with triathlon training, strength training and other fitness ventures. How would your product fit that mission?

I do not, as a rule, accept products for review or giveaway on my website. If you're interested in working with me as a sponsor, I have several options including advertising and event sponsorship. Depending on your timeline and budget, we can certainly find a project that supports your goals and also compensates me for the time I'd spend in reaching them.

As you can imagine, my blog is very valuable real estate, and my first commitment is to my readers. If you are interested in talking more, I would be happy to provide you with a proposal for a project that fits your parameters. If not, I understand, and wish you the best of luck!
I have found that this approach quickly separates the real from the just fishing companies (and the more you play the blog game, the more off-the-wall emails you'll get!). It also helps me keep my mind open, because some emails that I've thought were too crazy actually turned into great relationships with brands and organizations.
Maybe not the most amazing advice I'll ever give you, but it saves me time and helps me cultivate relationships!