Before you accuse me of unfairly pointing fingers…let me cop to one of my most painful self-reflections.
I'm a terrible slacktivist.
I regularly "join" campaigns by posting on my blog, liking on Facebook, retweeting on Twitter and more. Raising money for a good cause? I'll retweet. Want people to know about a terrible disease that is sweeping through a third world country? I'll like your status update.
Slacktivism (sometimes slactivism or slackervism) is a term formed out of the words slacker and activism. The word is usually considered a pejorative term that describes "feel-good" measures, in support of an issue or social cause, that have little or no practical effect other than to make the person doing it feel satisfaction. The acts tend to require minimal personal effort from the slacktivist. The underlying assumption being promoted by the term is that these low cost efforts substitute for more substantive actions rather than supplementing them, although this assumption has not been borne out by research. [1]

Slacktivist activities include signing Internet petitions,[2] joining a community organization without contributing to the organization's efforts, copying and pasting of Social Networkstatuses or messages or altering one's personal data or avatar on social network services. (source: Wikipedia)
I mean well, I really do. I'm so inspired by people that donate their time and money to worthy causes, and I always start by thinking that *this* will be the time I do my research, contribute and make a difference.
Then life gets in the way. And while I'd love to say I'm motivated to help every great cause around, some are more personal than others. Those get my limited resources — a small donation; a few hours of volunteer work. Everything else gets a cursory atta-boy through social media.
The most recent example is "Kony 2012," the viral campaign run by Invisible Children to end an African warlord's reign of terror. He's a terrible, terrible man. There's no argument against the desire for his capture or killing. Men, women and children are living through hell, and the campaign certainly raised awareness about his atrocities.
Why do I know so much about the campaign? Because of status updates from friends, urging everyone to watch the 30-minute documentary that Invisible Children produced. Because it made "Access Hollywood" and the covers of newspapers and magazines. But I have not watched the full video — just highlights — and I have not, and probably will not, contribute money.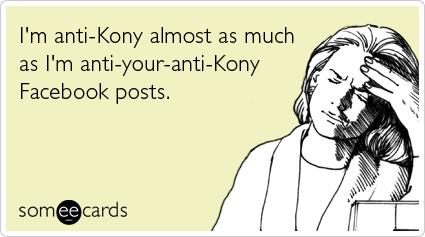 It's not just because there are questions about the organization behind the video (there are), or because I'm not sure how much of a difference I can make (I'm not). There's no specific reason that I have not been driven to follow up on all of the attention that this video is getting.
I know that my likes and retweets help raise awareness and pass on the message, and there's a small victory in that. But it feels hollow — as in, how can I expect my friends and followers to take action on something if the best I can do is a 3-second action in social media?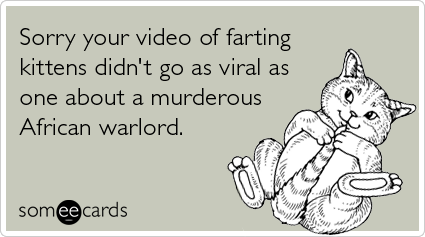 If this feels like a brain dump, it's because it is. I'm not alone in Generation Slacktivist:
So, tell me what you think — is slacktivism an OK thing, because it helps spread the message to people that can and will act? Or is it a sign that our generation needs to get off our butts and do more than tweet?