You know what's cooler than 1 million people? 800 million people. That's how many active users Facebook reports having right now.
And on average (same source), a user is connected to 80 community pages, groups and events. The above average user (ahem, probably most of you reading this!) is probably connected to more than 100.
Yeah, yeah, you're saying…Facebook is a big deal. But what's new?
OK, technically Insights aren't new, but they're newly non-sucky, and that's sort of the same thing.
Insights are Facebook's version of analytics — the dashboard and reports you can use to see who's interacting with your pages, what they're doing, where they came from and, in turn, do more of the stuff that works and less of the stuff that doesn't.
I'm going to share a few of the biggest features, but I learned so much from:
and I also took the time go go through the http://www.learnpageinsights.com/ training tool, and I HIGHLY recommend it. It's a guided tour, made by Facebook, and it walks you through each element.
(Note: on December 15th, Facebook will be phasing out the old Insights tools, so the time to learn the new tools is now.)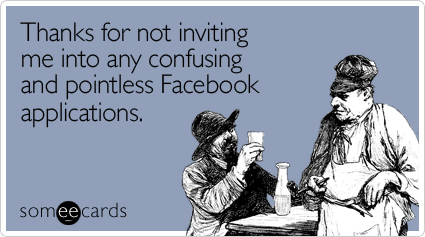 Highlights:
You'll see things like likes, reach and talking about this — each one has different and valuable results, so make sure you take the time to understand the difference between the three.
**likes = number of unique people who like your page

**reach = number of unique people who have seen any content associated with your page, including ads and sponsored stories

**talking about this = number of unique people who have created a story about your page
You'll be able to narrow each of the above variables down by date range, by post types and more
You'll be able to track the number of engaged users, or people who have clicked on a post
You'll be able to track virality, or the percentage of people who have created a story from your post, out of the unique people who have seen it
You can sort by each of those variables (engaged, each, virality)
What's great about all of those things is that you can instantly see what types of content get the most response from your fans. So perhaps photos posted after 2pm are big hits. Or updates that include questions get a lot of engagement. Look back at the things you've done and build on them.
A few other notes from the Facebook team:
Posts between 100 and 200 characters (less than 3 lines of text) receive about 60% more likes, comments and shares than posts greater than 250 characters.
Rich media content tends to draw attention more than simple text (photos and videos). Posts including an album, photo or video generate 180%, 120% and 100% more engagement.
Ask for your fans' opinions. (Also, consider asking questions using the Questions product.)
Try "fill in the blank" posts; particularly suited to talk about specific attributes of your product (why they like it, how they use it). 90% more engagement than other posts, on average.
Give your fans access to exclusive information. Announce new products on Facebook first, give access to sales, exclusive photos from events.
Reward your fans with deals and perks.
Use geo-targeting to make sure that only the people who would find your post valuable will see it.
So…if you have a moment — head on over to Facebook and like the Growing Bolder TV page (my baby!) so my engagement score goes up. 🙂