Lucas and I keep joking that life is giving us a series of emotional tests. Luckily, I think we've done pretty dang well and are passing them with flying colors.
Most of them are relatively minor — broken air conditioning units, flat tires — but this week, life socked me with two sads.
Sad #1:
On Friday, I got a call that I've been anticipating for months. My grandfather (Grandpa Joe) passed away peacefully at the age of 98.
At the risk of sounding heartless, this is a sad, of course, because my grandfather was a very important part of my life and I loved him very much. But in many ways, it's not. He'd been quite ill for a long time and very sad since his wife's death a few years ago. While it's awful to lose someone, he was old, had a very poor quality of life and I think was more than ready to pass on.
Thankfully, my parents were able to be with him for much of his last few months, and I hope that brings them both some peace. My mother (his daughter-in-law) blogged very eloquently about it here. I have some very happy memories of my grandfather, mostly revolving around our time at his house in Maine. It seems fitting that I was able to celebrate a very happy occasion at the same spot — my brother's wedding — just months ago. Joe was not able to attend, but my father gave a touching speech that included a tribute to everything he and my grandmother have meant to the family.
RIP, Grandpa Joe.
Sad #2:
Speaking of letting go…for a while this weekend, I thought I was saying goodbye to another loved one — my sweet girl cat Laila. On Friday, my happy pet stopped eating food and started slinking around, only leaving her dark corner in the office to go sleep in her litter box. I knew something was wrong but felt helpless to make it better. All weekend long, we monitored her, trying to get her to eat (she finally did after a day but only licked at her dish) and hoping to just keep her comfortable.
As a "senior" cat, I have given her a feline DNR — I would never let her suffer and will do everything I can to keep her healthy (she gets annual visits, special food/medicine, etc). BUT if she develops a serious problem that requires advanced treatment, I am prepared to let her go in peace. She has had an amazing life and if it's her time, I'll know in my heart that she was happy and that I was a good mom.
So when I woke up on Monday to a still-very sick kitty, I snuggled her and cried into her fur…then took her to the vet, expecting the worst. And I got it, sort of — because they have no idea what's wrong with her. An expensive round of bloodwork showed absolutely no abnormalities and they have no idea what might be causing this drastic behavioral change. They think it could be dental disease, and that the pain of eating suddenly caused her to stop, which then led to dehydration and lethargy. We'll see. She got a dose of anti-inflammatory medicine and some fluids that they hope will help her eat for a couple of days. If she goes back to the lethargy, they'll consider a tooth extraction.
The hardest part is being with her. She lets me pet her, rubs her head (weakly) against my knee and even purrs, even though I can see she's uncomfortable. It's difficult being a pet mama. And it's hard knowing that if she continues to be ill, I may have to revisit all of these emotions.
And then there's…
Big Happy:
It's my birth month! My baby is due this Saturday and while I have no idea if/when she will come by then or make me wait a few extra weeks to meet her, it's a super exciting time for our family. My mommy comes to town next week and considering sads #1 and #2, I'm definitely looking forward to having something GREAT happen to us. There is definitely a feeling that as life ends, life begins and as hard as it is to lose people and pets, I know that it's the circle of life.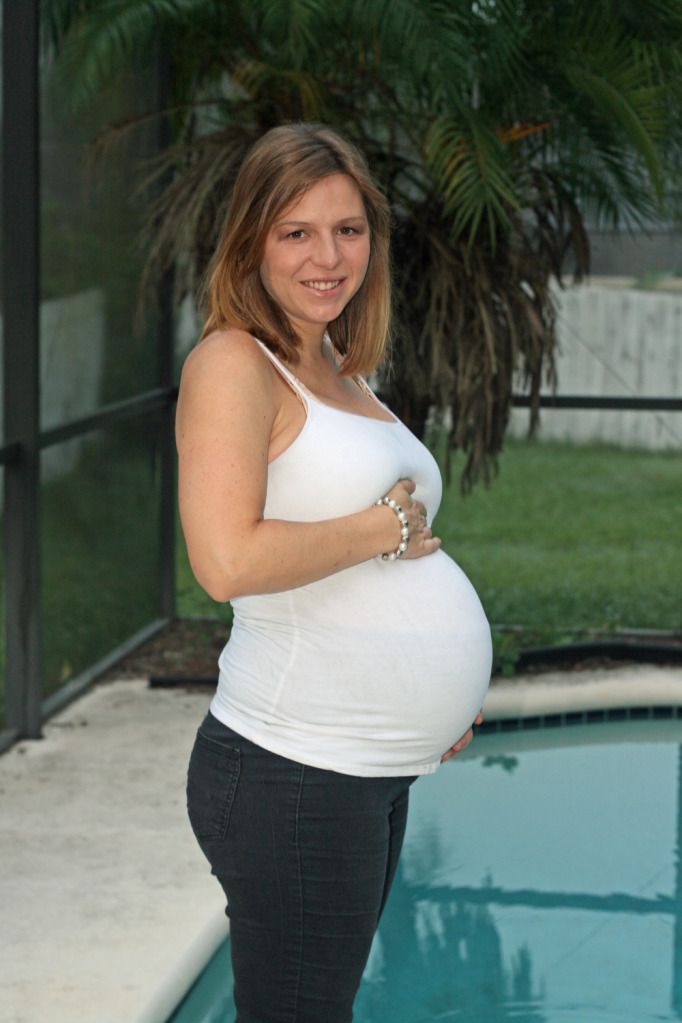 I have an amazing life and truly feel blessed to be where I am. Broken air conditioners and flat tires are nothing compared to losing loved ones, of course, but even those experiences make me more thankful for what I have.
What are you happy about today?