I had a really interesting conversation with a Facebook friend on Wednesday. It stemmed from this status update that I put up:
22 of my friends are subscribed to Ann Curry's status updates which makes me want to unsubscribe from THEM. Like, in real life. #scrooge
I was joking (sort of) but it spawned a much deeper discussion about when to draw the line with friends and family, especially on Facebook and Twitter. Normally when you don't like something someone says online, you can click the big red X and close the window. But that's not possible when you're linked through social media and blood.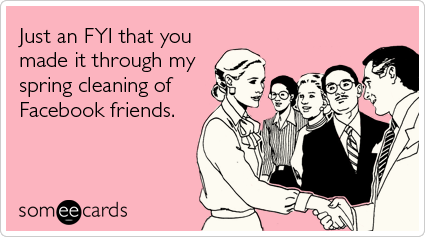 For example, I recently unfriended someone on Facebook that continued to post incorrect, racist and inflammatory information about President Obama. It was the right decision — not because she disagreed with me politically, but because I could not live with myself if I saw that type of content from anyone and didn't take a stand.
Had she just been going off about policy, we'd still be buddies. But attacking people on race, sexuality, religion, gender or anything else in that realm just steams me.
(In a move that I'm not proud of, I did tell her why I was unfriending her, and not in the nicest way. That led to a long list of hateful and mean things posted publicly about me that made me very glad I'd chosen to disengage with her…I just wish I'd been more diplomatic.)
So I'm curious — what makes you unfriend or unfollow, and how do you (if you do) let the person know that you need to cut ties? Have you had any uncomfortable or awkward experiences?