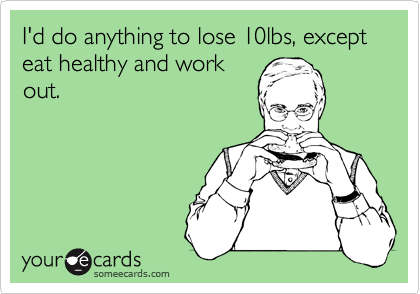 If you want to save yourself some time and energy, go read "Oh Yes, You Can!" from my blogging BFF Theodora. Her journey through healthy living is so inspirational, and she's been so honest with her struggles that when she says she doesn't want to hear your excuses, you can understand why. She has a great thesis, and I think that once you finish the post, you'll stop using the same tired lines that you always do.
I don't have enough time.

I can't afford to go to the gym/buy equipment/eat healthy foods.

I wouldn't know how to get started.

My family doesn't support me.

I'll make my health a priority some day, just not today.
Here's the thing. If you don't want to change your life, DON'T. I fully get that there are obstacles that make eating healthy and working out a challenge. I know that for some of you, the time isn't right. You have kids or parents that depend on you; you work long hours and want to devote your free time to sleeping and hobbies.
That's fine. 
But own it, OK? When you say things to me like
"I admire you so much, but I just don't have the willpower or time to get healthier myself."
You're cheating us both.
I choose every single day to make a good decision. Then another. Then another.
It never gets easier. I work my ass off — literally! — every day, and I never wake up and crave chia seeds over cookies. I constantly make sacrifices. I defend my lifestyle. I smile at the haters and I fight the inner voices that tell me to just give up and sit on the couch. I will always (ALWAYS) be inclined to walk when I could run or eat pizza when it's in front of me.
It's hard, grueling, painful, exhausting work. A daily battle. It is a battle for my life, and I will fight it for life.
My decisions are no more valid than yours, but they're mine. You need to make yours. I am not buying your excuses.
If you want to get healthy, get healthy. Demand more of yourself and of the people that love you. Make a decision and stick to it. Embrace the sacrifices, because they'll lead you to your goals.
If you don't want to get healthy, don't. I don't spend much time worrying about your choices, because mine are so freaking hard on their own.
If you need help, reach out. I live for those emails, tweets and phone calls. THAT, I can respond to. THAT, I can believe in.
</rant>